A better, more sustainable future
Our purpose-led approach is based on our five commitments which ensure we continue to align our business with the Environmental, Social and Governance ("ESG") requirements of our stakeholders. It is important that we work responsibly and in a sustainable manner to leave a lasting positive impact.
Renew is committed to operating responsibly and as such it is my role, together with the Group's SHEQ Director, to drive the Group's approach to sustainability.
During the year we have developed our sustainability strategy which is now reported in five key areas: customer value, climate action, operating responsibly, engaging our people and supporting our local communities. This enables our subsidiary businesses to align their approach to ESG with those of the markets and communities in which they operate.
We continue to add value to our customers through sustainable innovation which assists in the delivery of the UK's net-zero carbon target by 2050. This is our first year of reporting under the Streamlined Energy and Carbon Reporting ("SECR") regulations and this data will provide us with a baseline to understand the benefit our improvements are having and how we are supporting the nation's low-carbon transition targets.
Beyond 2020
We are committed to reducing our footprint and we will continue to review our consumption data and identify areas for improvements. Sustainability data will be reported by our subsidiary businesses monthly as we look to develop our targets for 2021.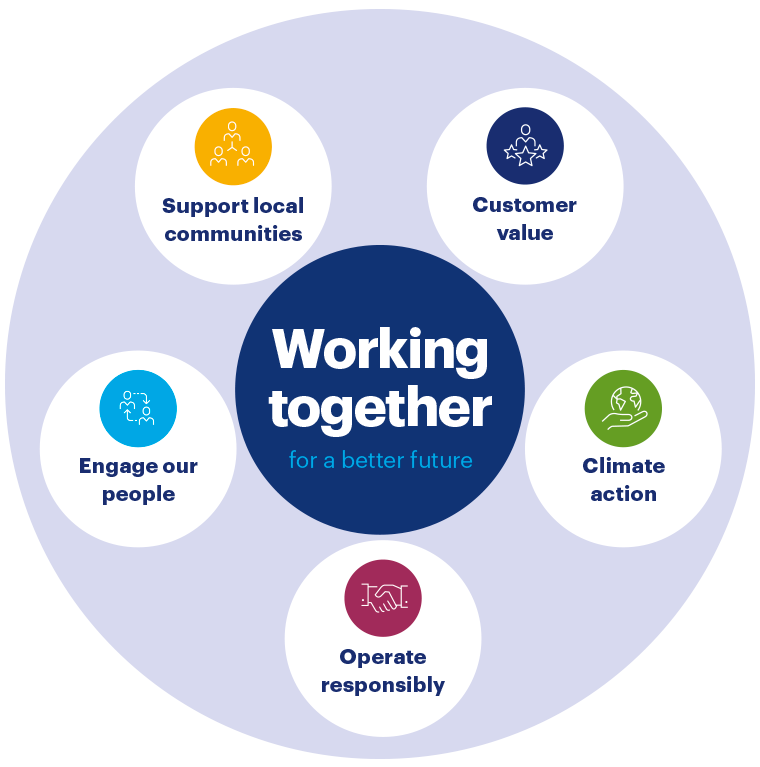 Customer value
Customer engagement
Sustainable innovation
Support our customers' sustainability goals
Climate action
Support the UK's net-zero carbon goals
Reduce carbon emissions
Climate related risks and opportunities
Operate responsibly
Health and safety
Supply chain engagement
Resource efficiency
Waste management
Green infrastructure
Engage our people
Training and development
Diversity and inclusion
Employee wellbeing
Employee engagement
Support local communities
Future skills
Charitable giving